Today's Gold Prices: USD1130.05, EUR 1005.88 and GBP 739.63 per ounce.
Yesterday's Gold Prices: USD 1140.00, EUR 1010.73 and GBP 746.46 per ounce.
(LBMA AM)
Gold was marginally lower yesterday and closed at $1133.60 per ounce, down $6.20. Silver was marginally higher and closed at $14.69 per ounce.
"No Safe Assets Anymore" So "Focus On Precious Metals" – Faber
Respected economist and historian and the editor of the 'Gloom, Boom & Doom Report' Marc Faber warned on Bloomberg TV's Market Makers yesterday that there are now "no safe assets" including deposits and said that he is focusing "on precious metals."
In another informative and interesting interview, Faber spoke about dangerous central bank policies and the stupidity of QE, the cause of inequality including competitive currency devaluations and warned that even deposits are no longer safe.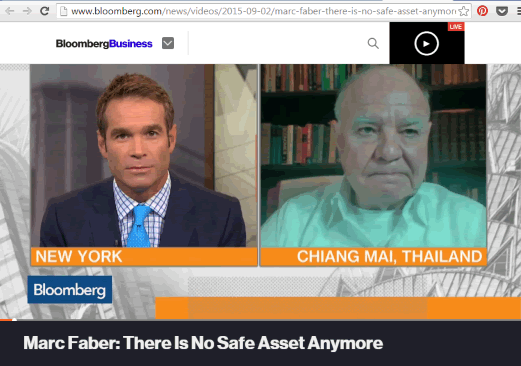 Marc Faber – There Is No Safe Asset Anymore (via Bloomberg TV)
"I think that because of modern central banking and repeated interventions with monetary policy, in other words, with QE, all around the world by central banks there is no safe asset anymore. When I grew up in the '50s it was safe to put your money in the bank on deposit. The yields were low, but it was safe."

"But nowadays, you don't know what will happen next in terms of purchasing power of money. What we know is that it's going down."
He was trenchant in his criticism of central bank monetary policies:
"In my humble book of economics, wealth is being created through, essentially, a mixture of capital spending, and land and labor. And if these three production factors are used efficiently, it then creates a prosperous society, as America became prosperous from its humble beginnings in 1800, or thereabout, to the 1960s, '70s. But it's ludicrous to believe that you will create prosperity in a system by printing money. That is economic sophism at its best."
Faber said that investors should "focus on precious metals" and gold and precious metal mining shares.
"I would rather focus on precious metals, gold, silver, platinum because they do not depend on the industrial demand as much as base metals, as industrial commodities."
Marc Faber is a long-time advocate of owning physical gold which action he describes as being "your own central bank" and he believes that Singapore is the safest place to store gold internationally.

View Video @ https://youtu.be/d1GcwYq-9j4